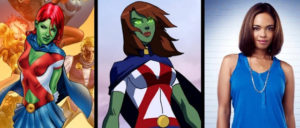 By Ed Diokno
Both Marvel and DC are diversifying their comic book universes by introducing superheroes whose alter egos are characters of color.
As part of DC Comics' Rebirth, major changes include a super-powered Lois Lane, a Latina Green Lantern and a 17-year-old Superman who hails from Shanghai.
Marvel has introduced a host of Asian superheroes in their new incarnations including Silk, the  Totally Awesome Hulk, and Ms. Marvel.
Yet, none of these characters have made it to the movies or television.
Unannounced, and perhaps, unintentionally, a Filipina American has been introduced this season into the CW Network's Supergirl. Sharon Leal plays a martian in the fantasy universe of Supergirl, so technically, she's not really a Filipina. She's not even of this planet. So maybe we're stretching things here.
When Leal's character, M'gann M'orzz arrived on Earth, she introduced herself to the other superheroes as a fellow Green Martian who had escaped Mars during the civil war between Green and White Martians. However, it was eventually revealed that she was a White Martian and had disguised herself as a Green Martian because of the stigma against White Martians as a barbaric race only interested in war.
Before learning her true identity, she was a member of the Teen Titans (not yet introduced in the TV series) and took the name "Megan Morse" as a high school student.
But the actress playing M'gann M'orzz is definitely a Filipina, born and raised in the Philippines.
"Some of my fondest memories of living in the Philippines are being in the water playing on inner tubes. I also remember my mother taking me to the open markets where I ate fresh mango and coconut. I had a huge addiction to tamarind anything..ha!" she recalled.

 "And my grandfather used to walk me to the sugarcane fields and I'd eat those like there was no tomorrow! I also remember getting my nails done at some of the nail salons there, which was always an event. My ears were pierced there with just ice and a needle…ouch!"

Thinking about home made, Sharon admits that her family has played a large part in her life. Sharon's owes her hearty appetite to her Kapampangan mom, who loves to cook Philippine dishes for her son."My 10-year old son has the palate of a true Filipino… he fills up on rice and fish and loves all the food my mom prepares. I love that about him…  It's my heritage really coming through and being filtered into an otherwise Americanized child. It's a beautiful thing!"

"My favorite (dishes) are, of course, adobo and I have a real taste for dishes that are only appreciated by true Filipinos such as dinuguan and the treat balut. I also love fried banana lumpia (turon) which I just had this last Easter at my mom's house. Yum!"

Because she is half-Black, most of her roles have played to that part of her heritage. The only Asian role she has had was in Miss Saigon early in her long career.

As a White Martian in Supergirl, she would become 8-feet tall, be stronger than humans and have the ability to shape-shift into other beings and have the ability of flight.
But it is a human talent that Leal suspects earned her role in Supergirl. Her singing talent that will be in full display when the producers do a musical cross-over with the cast of Flash later this season.

Super girl airs on the CW, 8 p.m. EST, Wednesdays.



Ed Diokno writes a blog :Views From The Edge: news and analysis from an Asian American perspective.