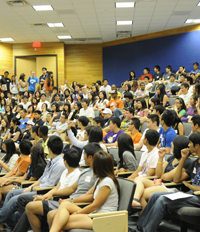 The same anti-affirmative group that twice went to the U.S. Supreme Court to sue the University of Texas, Austin, for discrimination is laying the groundwork for a third lawsuit.

My Statesman reports Students for Fair Admissions is recruiting students who feel they were unfairly rejected for a possible case.

According to the Harvard Crimson, this time the lawsuit will focus on Asian Americans.

"As an Asian American, I felt there was an angle that wasn't really being discussed much in the media and by the judges," said Cory R. Liu of SFFA.. "Just talking to people that I know, a lot of Asian Americans and a lot of high school students know exactly what the issue is about and they're excited about another opportunity to bring this issue to court."

In June, the U.S. Supreme Court by a 4-3 vote on Abigail Fisher v University of Texas, ruled that UT's admission program was constitutional. The ruling reinforced its 7-1 decision in the same case in 2013.

"As the Defendants point out, the consider­ation of race, within the full context of the entire applica­tion, may be beneficial to any UT Austin applicant—including Whites and Asian Americans"); see also Brief for Asian American Legal Defense and Education Fund et al. as Amici Curiae 12 (the contention that the University discriminates against Asian Americans is "entirely un­supported by evidence in the record or empirical data")," wrote Justice Anthony Kennedy in his majority opinion on Fisher in June.
So why is Edward Blum, the president of SFFA, trying a third time?

"The fight against racial and ethnic classifications and preferences in college admissions will continue against UT-Austin and every school in the nation that continues to engage in racial discrimination. These policies are wrong and are not supported by the vast majority of Americans."

That fight is supported by mostly recently Chinese immigrants. It is opposed by established Asian American civil rights groups and the second and third generation Asian Americans.

"We are pleased that the U.S. Supreme Court acknowledges the continued need for affirmative action policies that make it possible for students of all backgrounds, including many historically disadvantaged Asian American and Pacific Islanders, to access higher education and create a stronger country through their contributions to a diverse society," said Mee Moua back in June to AsAmNews. Moua was then President and Executive Director of Advancing Justice | AAJC, and has since resigned.

AsAmNews has Asian America in its heart.  We're an all-volunteer effort of dedicated staff and interns. You can show your support by liking our Facebook page at  www.facebook.com/asamnews, following us on Twitter, sharing our stories, interning or joining our staff.