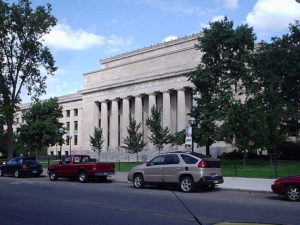 Both a former and current faculty member of the University of Michigan  are filing a lawsuit claiming racial discrimination and harassment, reports The Michigan Daily.
The plaintiffs are seeking over $25,000 in damages, claiming that the discrimination they have suffered at the university has led to lost salaries and emotional harm. Scott Kurashige was an assistant professor in the History and American Culture Departments from 2000 to 2014 and Emily Lawsin has been a lecturer in the Women's Studies and American Culture Departments since 2000. Kurashige and Lawsin have been married since they started their jobs at the school.
The Elliott-Larsen Civil Rights Act (1976) outlaws discrimination based on "religion, race, color, national origin, age, sex, height, weight, familial status, or marital status" in employment, housing, education, and access to public accommodations.
Attorney Alice Jennings states that the university violated the Elliott-Larsen Act by practicing marriage discrimination, among multiple other violations. The lawsuit alleges that the two plaintiffs were consistently passed over for promotions and raises despite both being highly acclaimed in their fields. Kurashige and Lawsin, both Asian Americans, believe they were passed over for promotion because of their race.
"They have been treated differently than others who are not similarly situated for racial reasons," said Jennings. "Secondly, there's an issue of hostile work environment, meaning that individual is made to feel different in a way that is painful both intellectually as well as emotionally."
The lawsuit states that Kurashige's persistent pursuit of discrimination claims against the school was what resulted in his termination as Director of the Asian and Pacific Islander American Studies Program in 2013. It also alleges that his colleagues blacklisted him, forcing him to resign in 2014 from his position as professor. In addition, the school had tried to terminate Lawsin in 2015 while she was on leave to care for a baby with Down syndrome. The lawsuit maintains that Lawsin's accusations of discrimination against her and other faculty and students  prompted  the university to bar her from teaching her previously scheduled classes for the winter 2017 semester.
Kurashige and Lawsin's complaints also include demographic information about the university to showcase how the school breeds a culture of racial bias and censorship:
"The composition of UM faculty also contradicts the institution's rhetorical commitment to diversity and equity. Of the 3,096 tenured and tenure-track faculty at UM, 74 percent are white, 15.8 percent are Asian (a large portion being international scholars), 4.3 percent are Black, 4.1 percent are Hispanic, 0.4 percent are Native American, and 0.1 percent are Native Hawaiian/Pacific Islander. At the rank of full professor, 80 percent are white and 73 percent are male."
"We will vigorously defend the university against this lawsuit," stated university spokesman Rick Fitzgerald. "In fact, the university already has filed a motion to dismiss much of the complaint."
AsAmNews has Asian America in its heart. We're an all-volunteer effort of dedicated staff and interns. You can show your support by liking our Facebook page at www.facebook.com/asamnews, following us on Twitter, sharing our stories, interning or joining our staff.