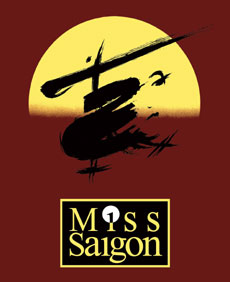 By Takuma Okada
AsAmNews Intern
"Miss Saigon" is the latest hit musical to receive the revival treatment, perhaps taking its cue from the success of The King and I in 2015. But while we can celebrate the diverse cast, Miss Saigon has been a source of controversy in the U.S. since it first came to Broadway. The Great White Way has moved past yellowface, but concerns over sexualization, racism, and employment for Asian American actors are still valid today.
When Miss Saigon transferred from the West End to Broadway in 1991, producer Cameron Mackintosh was adamant on retaining his two star leads, Jonathan Pryce and Lea Salonga. The largest problem with that was the fact that Welsh actor Pryce was playing the Engineer, a French Vietnamese pimp role, in yellowface and eye prosthetics. When The Actors' Equity Association considered refusing to permit Pryce to play the part, Mackintosh threatened to cancel the whole production, calling the organization's condemnation "hypocritical" and "a case of double standards."
Mackintosh argued that Pryce's star status contributed heavily to the financial success of the production. This is a favorite of producers even today, if Scarlett Johansson in Ghost in the Shell is any indicator. What's even worse is that he basically stated that Asians were unable to meet "the list of artistic qualifications we consider essential to perform the part of the Engineer in a star manner."
Of course Pryce would go on to win the Tony Award for Best Actor that year, albeit without the prosthetics. Lea Salonga would win Best Actress as well. But besides the whitewashing of a role, it is important to recognize that the imported casting of Pryce and Salonga deprived Asian Americans of two high profile roles.
Minorities have always been underrepresented on New York City stages, a fact well documented by The Asian American Performers Action Coalition. Looking at nine years of data, they found that 78% of roles were played by White actors. All minorities were underrepresented by a difference of 10% or more, especially Hispanic and Latino actors.
Even when Asian actors are cast, they are almost always playing characters that are specified as Asian. Again according to the AAPAC, only 2% of Asian actors play roles that are non-race specific. Employment numbers are so low that shows such as Miss Saigon, The King and I, Pacific Overtures, and the short-lived Allegiance can single-handedly double the number of Asians on Broadway in a season. In fact, many make a living off of appearing in different productions of 'Asian' musicals across the world.
Looking at the show itself, Miss Saigon is problematic. Its portrayal of Asian women is as sex workers. The child, Tam, is taken to America to be saved from an awful life in Vietnam. There are overtones of colonialism and suicide is romanticized. The group Don't Buy Miss Saigon has protested productions of the musical for years, linking multiple critical pieces about the show's Orientalism on their website.
However, I would not go so far as to condemn the actors in shows like Miss Saigon for selling out. For many, these shows are their only options for paid work. In fact a director once told me, "You're doomed to a life of The King and I, Miss Saigon, and Flower Drum Song." He's still mostly right. But there is new hope in musicals like Allegiance and Hamilton. Allegiance suffered from a messy plot, but its characters were sincere. Phillipa Soo played a lead role as Eliza Schuyler Hamilton and is now going on to play the title role in Amelie.
I leave you with this John Cho quote: "I haven't been given the chance to do all that I can."
Additional coverage at Newsday: 'Miss Saigon' Broadway revival also revives questions on employment for Asian-American actors
AsAmNews has Asian America in its heart.  We're an all-volunteer effort of dedicated staff and interns. You can show your support by liking our Facebook page at  www.facebook.com/asamnews, following us on Twitter, sharing our stories, interning or joining our staff.