By Sophia Whittemore
AsAmNews Staff Writer

I'm at a booth for Wizard World Comic Con Chicago 2017 and there's a crowd of people asking for sketches from artist Bordin Marsinkul. Stepping around his fanbase of vlogging young adults, I finally manage to ask a few questions of what it's like to be a Comic Con circuit artist with such a dedicated following.
"I grew up in San Francisco, but was raised in Thailand," says Bordin as he sketches a man's face in about a minute and is adding a stunning amount of detail in mere seconds. "My art is influenced primarily from Japanese and Western comic mashups. I watch tons of anime and video games to keep all the motion fluidity and poses fresh in my mind."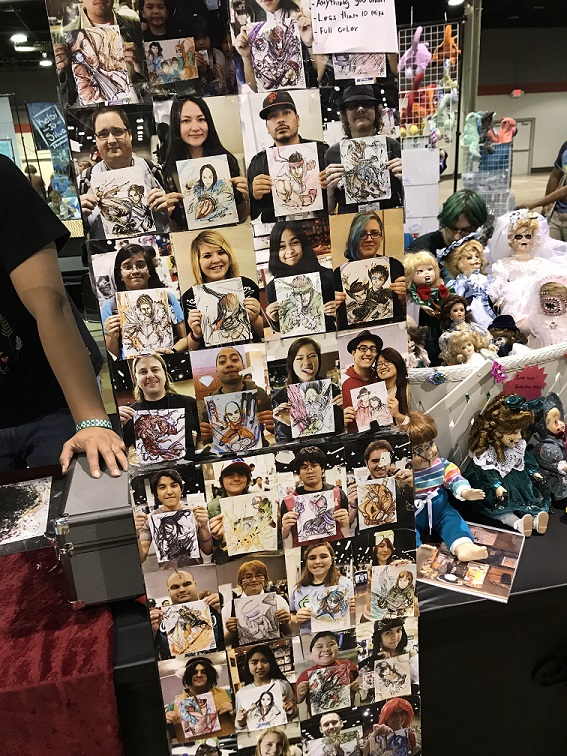 It turns out that he attended the Academy of Art in San Francisco for visual development for five years, did some work on Deviantart for a bit, and decided he was ready to travel the Comic Con circuit and build his art portfolio.
He's beaming as I ask him about his recent crowning achievements. "I got a sponsorship for markers from Copic Markers," he said as he points to a heavy steel case that holds these prized instruments. "For a young artist like me, it means the world that I can keep doing what I love. I've worked eleven years at my art. One day, I might even set up a livestream."
He hands a sketch to another customer as they vlog his insanely fast sketching skills.
His advice to those who also want to become artists? "Be positive. Never quit. Even if you're out there traveling the art show circuits like me. If people aren't buying your art, it's just one bad day. You can't predict what style people love. You just have to love your own art style."
Check out more of Bordin's art at:
https://m.facebook.com/hyperbooster
****
AsAmNews has Asian America in its heart. We're an all-volunteer effort of dedicated staff and interns. You can show your support by liking our Facebook page at www.facebook.com/asamnews, following us on Twitter, sharing our stories, interning or joining our staff.