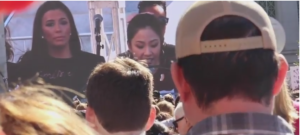 Actress Constance Wu touched on an issue very personal for Asian Americans.
She took her opportunity to speak at this weekend's Women's March to address  harmful Asian American stereotypes during her speech in Los Angeles Saturday.
Wu joined other high-profile Hollywood women, such as Natalie Portman and Viola Davis, as a speaker at the second annual Women's March in L.A. The Women's March is a national protest movement aiming to empower all women, according to the Women's March website.
Like her fellow speakers, Wu recounted her negative experiences with men and promoted Time's Up, an anti-sexual assault movement founded by Hollywood celebrities. However, Wu also confronted an issue pertinent to Asian American women.
Proud to have spoken and marched at the LA Women's March this past weekend?link to speech below ?https://t.co/R9PM3Q5XcU

— Constance Wu (@ConstanceWu) January 22, 2018
"I march today for Asian American women who have been ignored, or judged or fetishized or expected to be a certain way to fulfill a certain idea of what a sweet girl should be," Wu said to a crowd of about 500,000 according to some estimates. "To that, I say you can be anyone you want to be."
Wu was challenging stereotypes that characterize Asian women as docile and submissive and liken Asian women to "China dolls," "school girls," "geishas," and "comfort women," among others. Such stereotypes stem from histories of sex trafficking industries in Asia, and they are proliferated in mainstream media, especially the pornography industry.
"Imagining Asian women as deferential and obedient to 'authority' assumes consent when it's not given," writes Rachel Kuo for Huffington Post. "These fantasies also circulate ideas about consent when it's not actually given."
Wu, co-star of television series Fresh Off The Boat and upcoming movie Crazy Rich Asians, has frequently pushed for more diverse representations of Asians and Asian Americans in the media.
AsAmNews has Asian America in its heart.  We're an all-volunteer effort of dedicated staff and interns.  Check out our Facebook page  and our Twitter feed,  Please consider interning, joining our staff or submitting a story for consideration.