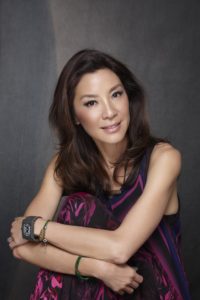 San Francisco is turning to the stars to usher in the Year of the Dog.
Veteran actress Michelle Yeoh has been named the grand marshal of this year's Southwest Chinese New Year Parade & Festival.
It's the first time in the parade's 150 plus year history that a celebrity has served in this role.
Yeoh currently stars in the CBS All Access series Star Trek: Discovery and has role as the overbearing mother in the highly anticipated movie, Crazy Rich Asians, which is due out this summer.
She gained fame as a Bond girl in the 1997 James Bond flick, Tomorrow Never Dies, but is perhaps best known for her kick ass role in the highly acclaimed 2000 film, Crouching Tiger, Hidden Dragon.
The announcement was made on Facebook.

"It's an honor to serve as this year's Grand Marshal and experience Lunar New Year in the United States," said Yeoh. "This historic parade is a wonderful celebration that unites communities and promotes cultural exchange; two pursuits that are very close to my heart."
The New Year festivities in San Francisco take place over a two-week celebration beginning February 10 thru March 4, 2018.
YEAR OF THE DOG FEBRUARY 10-MARCH 4, 2018
LUNAR YEAR 4716
February 10 Southwest Airlines® Mini-Procession and
Saturday, 10:30am Ribbon Cutting Ceremony
Grant Ave. from California to Pacific
The procession which begins at St. Mary's Square will include lion dancers, giant walking puppets, costumed stilt walkers, drummers and dancers. Following the procession, the City dignitaries will join honored guests in officially opening the Festival with a ribbon-cutting ceremony at the main stage on Washington below Grant & Kearny.
February 10-February 11 Chinese New Year Flower Market Fair
Saturday 10am-8pm Grant Ave. from Clay to Broadway;
Sunday 9am-6pm Washington, Jackson & Pacific between Stockton &
Kearny
February 16 Chinese New Year Day and Unveiling of the New 2018
Friday 11am Golden Dragon Eye Dotting Ceremony at Portsmouth Square
Kearny St. from Clay to Washington
February 17 SF Chinese Chamber of Commerce /Southwest Airlines®
Saturday Basketball Jamboree
10am-4pm Betty Ann Ong Chinese Recreation Center
Mason & Washington Sts., SF
Contact: Kenny Lee [email protected]
February 22 Miss Chinatown U.S.A. Pageant $40, $50, $70
Thursday 7:30pm War Memorial Herbst Theater
401 Van Ness Avenue, SF
Tickets available at: www.cityboxoffice.com
For more information: SF Chinese Chamber of Commerce (415) 982-3000
February 23 Thunder Valley Casino Resort
Friday Miss Chinatown U.S.A. Coronation Ball
7pm Dinner Hyatt Regency
8pm Coronation & 5 Embarcadero Center, SF
Dancing Tickets: (415) 982-3000 $1,500 – $5,000 per table*
Individual $180
February 24 Southwest Airlines® Chinese New Year Parade FREE
Saturday, 5:15-8pm Market and Second to Kearny and Jackson
Bleacher Tickets available: https://chineseparade.com.eventbrite.com $35
February 24-February 25 Chinese Community Street Fair
Saturday 10am-4:30pm Grant Ave. from California to Broadway;
Sunday 9am-5pm Washington, Jackson & Pacific between Stockton & Kearny
March 4 SF Chinese Chamber of Commerce Presents
Sunday 8am CCHP/Chinatown YMCA Chinese New Year Run
5K/10K Run/Walk
Registration: 7am Contact: (415) 576-9622