By Angel Trazo
AsAmNews Intern
The relationship between Asian American daughters and their mothers is complicated to express, yet twenty-five artists across the country have visualized its layers of emotion, culture, and identity through image and text. 
In honor of Women's History Month, Dear Mother a Bay Area exhibition presented by the Asian American Women Artists Association (AAWAA) highlights the powerful relationships between mothers, daughters, grandmothers, and aunties.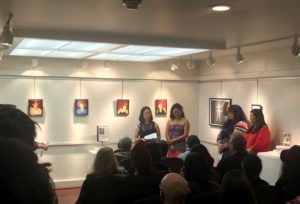 Curated by Katie Quan and Midori Kimata through AAWAA's Emerging Curator Program, Dear Mother showcases the visual art, film, and literary works of womxn of color artists.
Both Quan and Kimata were eager to create an exhibition that explores the intersections of Asian American identity, motherhood, and storytelling.
Co-curator Katie Quan identifies as Chinese American or ABC "American Born Chinese." A recent graduate of SFSU's Asian American Studies MA Program, Quan is also an artivist (artist and activist) who tells stories through  art such as – her comic strip This Asian American Life.
"When we were brainstorming ideas for the art show, basically the idea of passing down stories from mother to daughter came up," Quan told AsAmNews. Quan feels that storytelling is an empowering tool for Asian women. "As Asian women, I think it's easy for others to overlook our narratives, especially because of the assumption that we are supposed to be silent. Spaces like this allow us to visually or metaphorically highlight and create a haven for discussions on issues we care about."
Featured artists range in ethnic backgrounds and career paths and employ different mediums, yet what these Asian women have in common is a passion for artistic storytelling.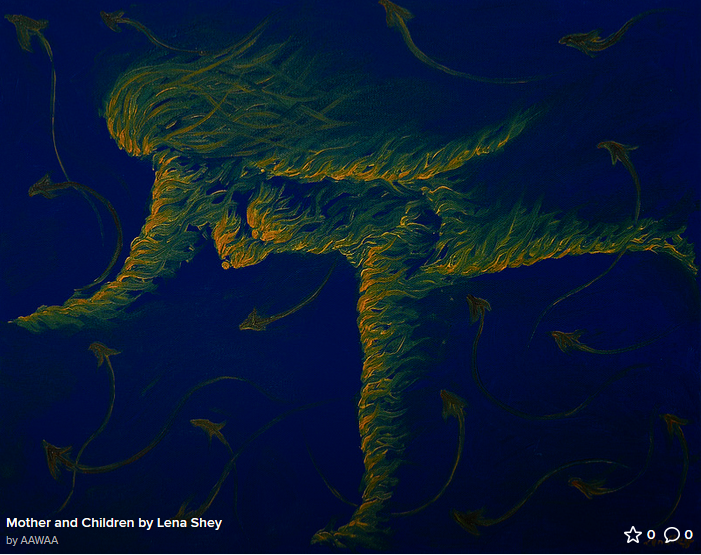 Lena Shey is a San Francisco Bay Area professional artist born in Shanghai, China. Following her MBA and several years working in IT and Business, Shey rekindled her dream to become an artist in 2015.
"I felt like there was a spiritual calling for me… to heal the world through art. So, I left the corporate race," Shey told AsAmNews. "I'm very grateful that the universe has answered my call with kindness and opportunities and allowed me to create and show my artwork."
For her piece in Dear Mother, an oil painting titled Mother and Children, Shey drew inspiration from her real mother. "She is an inspirational woman whose love and wisdom was instrumental to myself and my family's ability to sail through many storms during our years in China and the United States," Shey said.
While inspired by her mother, Shey's art is also deeply intertwined with her Chinese culture and a sense of spirituality. "I incorporate everything from calligraphy to Chinese painting to Chinese culture, philosophies, poetry, and literature in my artwork," Shey explained. "I hope my artwork [Mother and Children] inspires the visitors to have a spiritual awakening. I hope they can reflect on their own lives and be inspired to take on a new transformation in their life journey toward greater peace, unity, and love."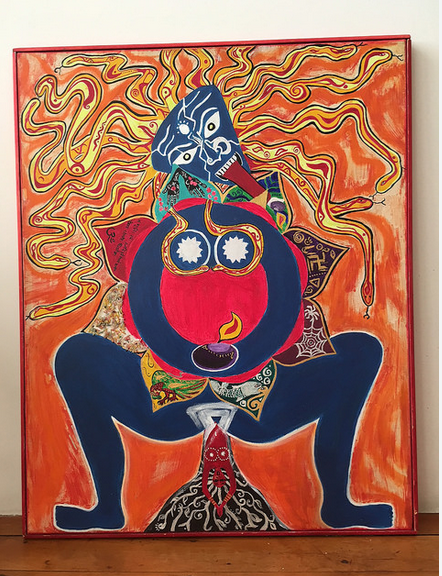 Another featured artist whose heritage plays a large role in her creative work is Natasha Singh who is of South Asian origin and holds a BA in Women's Studies from the University of Toronto and an MFA from Sarah Lawrence College.
"The content of my work focuses on my parent's immigrant experience and myself living in Canada as a first-generation Asian," Singh expressed. "My visual art is also informed by Hindu images, such as the Divine Feminine and various goddesses. All of my work is steeped in some awareness of my culture," Singh explained. Her creative nonfiction will feature the story of her mother's immigration to Canada. "It's basically my own reflections on my mother's lack of choices: from her arranged marriage, being brought to Canada without much agency in this decision, and having to work as a maid." Singh acknowledges that her own sense of power and agency is a result of being able to stand on the shoulders of women like her mother.
While the exhibition will feature Singh's nonfiction, she had originally created a painting depicting Kali Ma, a fierce Hindu goddess giving birth to a female figure. However, it was decided not to show this piece on the grounds that it was too sexually graphic. "It is so important to show the feminine and the female body in a wide variety of ways. Viewing [all depictions of female nudity] as sexual is problematic."
For Pinay (Filipina American) Dr. Melinda Luisa de Jesús, her culture and art are inseparable. de Jesús is a poet as well as the Chair and Associate Professor of Diversity Studies and Critical Studies at the California College of the Arts. When writing poetry, feminist literary critiques, or ethnic studies scholarship concerned with Filipinx identity, "I am always aware that I'm contributing to the creation of Filipinx American culture in the 21st century, for better or for worse…" de Jesús told AsAmNews.
"Dear Mother is a fantastic theme because it crosses over into so much feminist theory and writing, and into a theme that is constantly being addressed in Asian American literature. From The Woman Warrior and The Joy Luck Club to One Hundred Demons, as well as in work by Asian American male writers like (Carlos) Bulosan, (John) Okada and (R. Zamora) Linmark, mothers are a force to reckoned with," said de Jesús.
"Mother-daughter and daughter-grandmother relationships are the wellspring of so much tender but often angst-ridden writing, particularly as Asian American women seek to describe the legacies of culture and family, history and trauma; both the good and the harmful, the confusing and the revelatory,"de Jesús expressed. "For those of us who are mothers, or plan to be mothers, and for the millions of us raising mixed-race kids, these issues are paramount, particularly within this current racist and misogynistic cultural moment."
Another artist whose visual work is exhibited in Dear Mother is Hanna Chen, a Taiwanese American from San Francisco. After receiving technical training in the fine arts at the Ruth Asawa School of the Arts, Chen spent a year in art college in Philadelphia before deciding to discontinue. "I started realizing that fine art and academic art were something I needed a break from. It was too constricting," Chen told AsAmNews.
Despite taking a hiatus from formal training, Chen continues showcasing her art at what she calls "art functions." "My friends in the underground art community in the Bay Area will find a house or a little shop," Chen explained. "You'll have DJs playing sets and people singing while you're looking at people's visual artworks. There's a focus on both the appreciation of music and visual arts." Dear Mother will be the first formal gallery setting apart from school functions where Chen will show her work.
The theme Dear Mother strikes an emotional chord for Chen. Chen's mother passed away in June and her painting was created as a tribute to her. "It's a visual stream of consciousness," Chen elaborated. "After my mother had passed, there was this moment. I was going to school and I felt so heavy and congested. It was like a panic attack without physical symptoms. It was all happening in my head. It was trauma. I wanted to get on paper what that felt like."
Chen's painting is a self-portrait where the inked character, herself, is seen speaking words in a speech bubble. The quote in Mandarin reads, "Mom, I miss you to death. Did you know that?" Chen also holds her iPhone and is listening to a Taiwanese children's song which translates into "On This Earth, Mothers Are the Best."
"Do you ever see people tokenize their own culture?" Chen pondered. "I want to avoid doing that, but sometimes I feel like I do. It's an unfinished thought that I'm still trying to work through … how to pay respect for this [Asian] part of my identity without using it as an accessory."
The artists of Dear Mother are eager to share their stories, legends, and conversations about mothers, daughters, grandmothers, and aunties.
"All I can hope for is that people walk away with a deep appreciation of how innovative we are. Everyone has a different interpretation to the same 'call for artists,' even if this call is directed toward Asian women," Singh explained. "We are not a homogenous group. Our strength comes from our immense imagination, creativity, and an appreciation for the complexity of who we are."
The full list of artists featured in Dear Mother include Aishwarya Vardhana, Denali Gillaspie, Diana Li, EK, Elizabeth Tannie Lewin, Erina C. Alejo, Evelyn Obamos, Grace Jahng Lee, Ji Jung Lim, Jimizee, Karen Chew, Karen Nagano, Lena Shey, Lisa Pradhan, Melinda Luisa de Jesús, Narinda Heng, Natasha Singh, Priscilla Otani, Rachel Marchelo, Romina Saha, Rowena De Silva, Sena Kwon, Sharryn Park, Taiwanese Noodles, Tina Kashiwagi, and Yoojin Seol.
The exhibition will be showing from March 10, 2018-April 15, 2018 at the San Pablo Art Gallery (13831 San Pablo Ave, San Pablo CA 94806). Gallery Hours are on Saturday and Sunday, 12-4 PM.
AsAmNews has Asian America in its heart.  We're an all-volunteer effort of dedicated staff and interns.  Check out our Facebook page  and our Twitter feed,  Please consider interning, joining our staff or submitting a story for consideration.