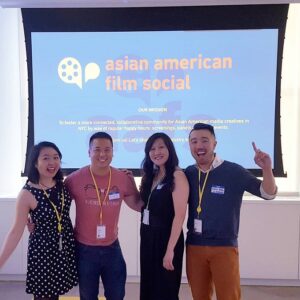 The Asian American Film Social (AAFS) networking group launched at Facebook's headquarters in New York City on May 10th.
AAFS, a division of Asian Cinevision which hosts the Asian American International Film Festival, will be a hub connecting NYC-based filmmakers, performers, fans and investors. Monthly events will include happy hours, panels, networking mixers and screenings.
At the launch party, a selection of cocktails were mixed with ITO EN flavored teas and Hwayo Soju, and raffle prizes included a dinner gift certificate from the Altamarea Group.
The group was founded by four Asian American creatives, Kevin Bang, Jen Kim, Albert Wang and Kayla Wong who saw a need for a more connected local community to raise the profile of Asian Americans in film, television and new media.
Kayla Wong is a Seattle-born, New York-based Producer. After graduating from the NYU Tisch School of the Arts in Film and TV Production, she started 8-Player Pictures, a short-form production company for underrepresented stories. She has been involved with the Asian American International Film Festival since 2012, and is this year's Co-Director.
Albert Wang, AAFS Co-Founder, is a Writer and Producer dedicated to bringing stories from underrepresented backgrounds into the mainstream. Selected by Writers Guild of America East as a 2017 Made in NY Writers Room Fellow, he is developing a web series about Asians in New York.
Jen Kim is a Film and Event Producer, Vice President of Also-Known-As, Inc., a non-profit organization for international adoptees, Co-Director of the Asian American International Film Festival, Venues Producer of Tribeca Film Festival, Assistant Venue Manager of Rooftop Films, and Event Producer at DOC NYC.
Kevin Bang, AAFS Co-Founder, consulted for the Asian American International Film Festival from 2015 to 2017, and was the Co-Founder and Director of the Seattle Asian American Film Festival from 2012 to 2015.
The Asian American International Film Festival (AAIFF) is the first and longest running festival in the country devoted to films by and about Asians and Asian Americans. This year's 41st annual festival will launch on Tuesday, June 26th where the screening, panel and event schedule will be announced to take place from July 25th to August 4th.
The next Asian American Film Social event is on Tuesday, June 12th at La Caverna. More details are available at this site and for the latest updates follow ACV on Facebook, Twitter, Instagram and by subscribing to their newsletter.
AsAmNews has Asian America in its heart.  We're an all-volunteer effort of dedicated staff and interns.  Check out our Twitter feed andFacebook page for more content.  Please consider interning, joining our staff or submitting a story.