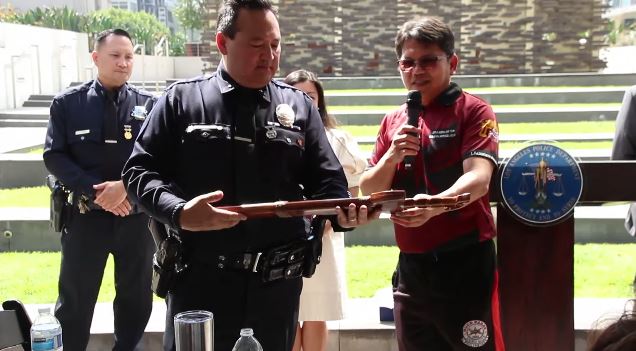 The Filipino American community came together this month to honor the first Fil Am to rise to the rank of commander in the 150 year history of the Los Angeles Police Department, reports the Inquirer.
The festivities honoring Donald Mendoza Graham took place as part of Filipino American History Month.
Chief Michael Moore promoted the former captain on July 31 to the rank of police commander and homeless program coordinator.
It's estimated that 36,000 homeless people live in Los Angeles.
"It is the social fight of our generation, so the fact that the chief of police has entrusted me to help him provide the leadership for the organization through this time, is an honor for me," he told Balitang America. I know it's not going to be an easy job. I didn't take this job because it's easy."
The 24-year veteran took a part time job during his last year as a student at Los Angeles Valley College in its police department. He quickly fell in love with law enforcement.
"As it turns out, the people that work there, the officers that work there were all retired LAPD officers and were some of the most high-quality people I've ever met in my entire life. People who dedicated their efforts not to blaming people, but to solving problems," said Graham.
He enrolled in the police academy where the student body elected him class president and he would graduate second in his class in academics, according to his department biography.
His mom recalls when he first told her he wanted to become a police officer.
"I'm so proud, I was scared when he said I want to be a policeman, but he went all the way," said his mother Amalia to Balitang America.
AsAmNews has Asian America in its heart. We're an all-volunteer effort of dedicated staff and interns. Check out our new Instagram account. Go to our Twitter feed and Facebook page for more content. Please consider interning, joining our staff or submitting a story.