By Louis Chan, AsAmNews Staff Writer
Awkwafina's new show, Awkwafina is Nora from Queens debuts Wednesday at 10:30/9:30 Central with a sneak peek Tuesday night on Comedy Central.
The Golden Globe award winning actress plays Nora, a ride share driver who's living with her parents at age 30 and struggling to find herself.
If you recall Awkwafina's high energy role in Crazy Rich Asians, you know what to expect in her new comedy. Only this time she's competing for the top of the energy peak meter with Lori Tann Chinn (Orange is the New Black) who plays her spirited grandma. The two provide much of the comedy during the half hour program.
Mercifully, the role of the father is played by Tony Award-winning actor BD Wong whose understated performance as the doting father serves well to balance the animated performances of Awkwafina and Chinn. Bowen Yang of Saturday Night Live fame takes on the role of Nora's Stanford educated cousin.
The Asian American star studded program is scheduled to run at least two seasons. Its comedy is refreshing for its depiction of an Asian American family not usually seen on television. How often do we see Asian Americans as overachievers? The portrayal of a lower middle class family is in stark contrast to the extravagant Crazy Rich Asians we saw recently on the big screen. Chinn is anything but a tiger mom and BD Wong is pretty laid back compared to other Asian American dads we've seen in the media.
The comedy is edgy with many sexual and drug references in the five episodes AsAmNews previewed. The gags aren't for everyone, but should resonate with the Millennial audience Comedy Central targets.
While Awkwafina's characters show many vulnerabilities, its still not clear whether she will strike an emotional chord with the audience. We begin to sympathize for her in episode 4 when she struggles to get her vehicle out of the impound lot. More character development would serve this program well.
More like what we see in episode 5 with Nora's dad. The character begins to show his vulnerable side when the emotional turmoil he's facing as a single father begins to surface. While brimming with overconfidence, the internal struggle Nora's cousin is trying to overcome begins to bubble to the top also in episode 5.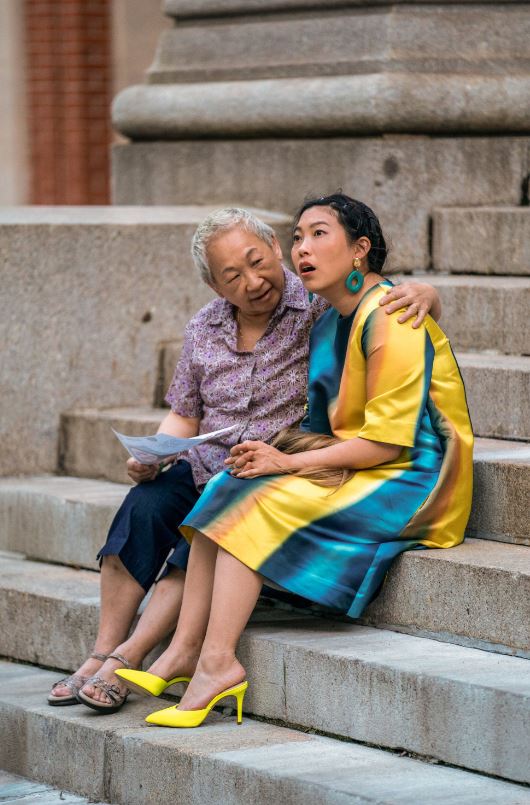 Grandma serves as a foundation for Nora who's looking for a springboard to a better life. She also provides a sounding board for Nora, but her character will need to grow beyond that for this show to reach its full potential.
Awkwafina is Nora from Queens will add levity to your Wednesday nights. Whether it gets you to care about the characters remains to be seen.
AsAmNews has Asian America in its heart. We're an all-volunteer effort of dedicated staff and interns. Check out our new Instagram account. Go to our Twitter feed and Facebook page for more content. Please consider interning, joining our staff, or submitting a story.