By Erin Chew, AsAmNews Staff Writer
The U.S. incarcerated the majority of Japanese Americans on the West Coast during World War II. However, there's another history of self-evacuees-Japanese Americans who voluntarily left their homes in California after Executive Order 9066. The option of "voluntary" relocation was available for only a very brief period from early February to late March 1942.
The documentary Before They Take Us Away highlights this invisible history via interviews with surviving members of this community. Directed, produced, and written by Antonia Grace Glenn with Evelyn Nakano Glenn (renowned sociologist and the Founding Director of the Center for Race and Gender at the University of California, Berkeley), Patrick Glenn, and Tim Becherer also on the production team, the film aims to show the hardships and struggles Japanese Americans experienced as self evacuees.
The overwhelming majority of self-evacuated Japanese Americans lacked the resources or connections necessary to move anywhere outside the restricted zone imposed by the US Government. To add to the struggle, government officials in many states outside of the restricted zone quickly declared that Japanese Americans were not welcome.
"I don't think that a lot of people know about the self-evacuation option because of how quickly it happened with many of our interviewees saying their families left without taking a lot of their personal possessions," said Glenn, the director "The struggle was real. The self-evacuated community comprised of around 5000 Japanese Americans so it wasn't easy tracking down this history. However since the release of the film, we have seen social media postings and received messages from other Japanese Americans all across the country saying that this was their family experience and some even saw their family members who experienced this in photos from our trailer."
His brother and fellow producer Patrick Glenn, also did a lot of the research and interviews for the film with their mother Evelyn Nakano Glenn.
"Due to how quickly most self-evacuated Japanese American families left, there really is no concrete written down records and physical materials to reference with this history, he said. "If we didn't do the research and the interviews this history would have been lost over time and it was important we were able to tell these stories to show the struggle for equality and human rights among this minority of Japanese Americans."
The experiences recounted by those who experienced the hardship of being self evacuees in the film talk about the discrimination they received and how they were treated as criminals even as children. This is a traumatic memory for film interviewee Reiko Murayama who was only 12 years old on December 7, 1941 in San Pedro, California.
Murayama said her parents were out of town and a family friend took her and her four siblings to Sunday School in the Japanese American community on Terminal Island. As the children attempted to board a ferry boat back from Terminal Island to San Pedro, the authorities locked them in a makeshift cage and refused to let them leave. Finally, that evening, the Sunday School teacher prevailed upon the authorities to release the children. When they got home, the children learned that Japan had bombed Pearl Harbor that day and World War II had started.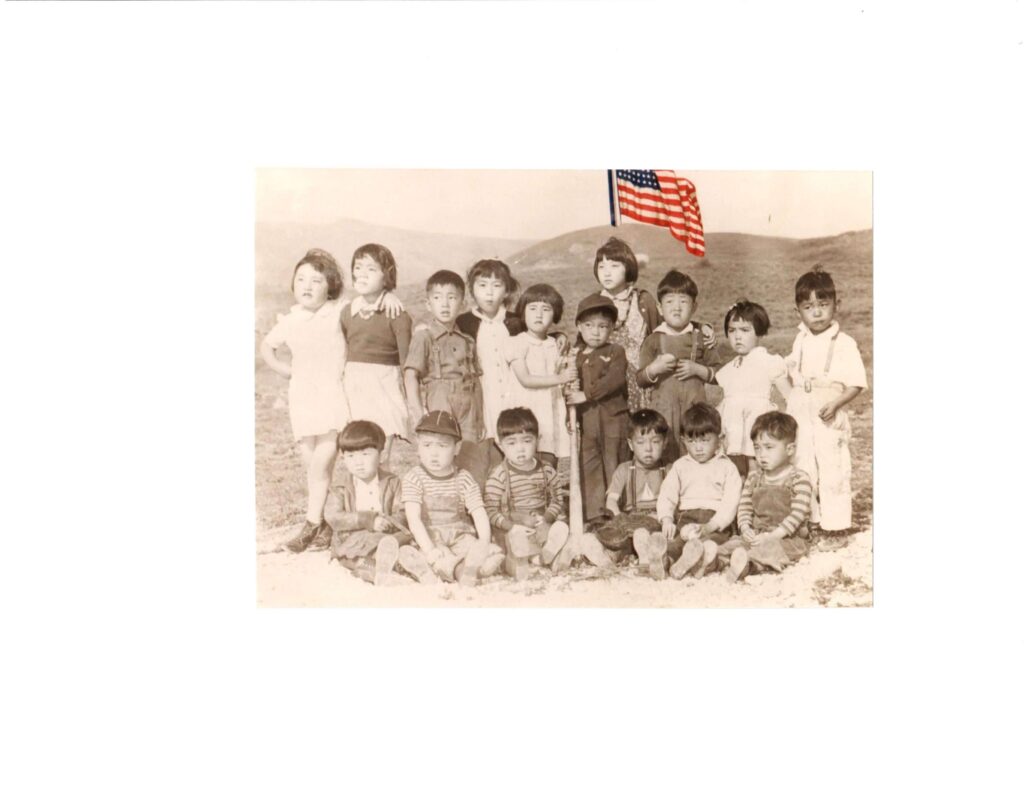 Murayama also recounted that every day on the school bus, White boys would throw the Japanese American boys across the bus and try to unbutton the clothes of the Japanese American girls.  Other children would spit on the Japanese American children as they waited in line for the bus.
"That happened every day.  That was the most horrible thing," recalls Reiko.
Glenn Kameda who was only 7 years old in 1942, shared the story of his parents and uncles, who had to leave behind a thriving flower business in California and become impoverished sharecroppers in Colorado. Living in primitive housing with no electricity or running water, the family became "incarcerated socially", with the local community refusing to sell water, food or gas to "Japs."
Kameda shared a vivid memory of his mother and aunt wearing backpacks containing bug spray and walking up and down rows of plants, spraying them, only pausing to breastfeed their babies who were stowed in a pickup truck. After school every day, the Japanese American children had to run home, as the white children would throw rocks at them. Kameda recounted that on one occasion, he threw a rock back and it struck a White boy on the head.
Before the Glenns decided to chronicle this history as a documentary film, it was initially intended to be more for academic research. The process of conducting interviews started back in 2012 and in that time period, they conducted over thirty interviews with surviving members of the self evacuee community. In addition, work was done in engaging with Japanese American organizations and temples to not only identify more members of this community but to also find any documentation or material which spoke about the self evacuee experience.
"I know when my mother started the process of conducting the interviews she worked with a good family friend whose relatives were self evacuees and that was how we got connected to other Japanese Americans who shared this family history. It was only after speaking to other Japanese American organizations, groups, leaders, and temples that we were able to get more interviewees and materials for our research," Antonia added.
It took another two years working with an editor, motion designer, and actors along with music composer Dave Iwataki, one of the founding members of the band Hiroshima to tell this story.
An important film like this is a great educational tool.
"I don't think there is ever a bad time to release a film about any type of discriminatory experience. White supremacy has never stopped in America's entire history," Patrick expressed.
"When we started conducting the interviews ten years ago and started producing the film two years ago, we never thought or anticipated the things which happened from the spring of 2020 up till now with the #stopasianhate movement and spike in anti-Asian racism and violence."
Before They Take Us Away was screened at the 2022 DisOrient Asian American Film Festival of Oregon, and there will be more screenings soon to come.
AsAmNews has Asian America in its heart. We're an all-volunteer effort of dedicated staff and interns. Check out our new Instagram account. Go to our Twitter feed and Facebook page for more content. Please consider interning, joining our staff, or submitting a story, or making a contribution.