By Erin Chew
Whenever the name Phillipa Soo is mentioned, most would remember her as playing Eliza in the original cast of Hamilton back in 2016. This famous Lin-Manuel Miranda musical was Soo's debut on Broadway and earned the Tony-nominated star the title of theater royalty.
Since then her career has ballooned. She's played a suffragist lawyer (Suffs), an opinionated and assertive queen (Camelot), a ditzy princess (Into the Woods) and a street preacher (Guys and Dolls) on stage. Her credits extend off the stage with her top-billed role in the romantic film One True Loves and scoring roles on TV/streaming platform series Dopesick and Shining Girls.
"I am quite proud of the projects on stage and on screen that I have had the opportunity to be a part of. My first role on Broadway being Hamilton, really broadened my perspectives and allowed me to access opportunities many Asian American actors were unable to access. Hopefully, my journey has opened doors for more Asian Americans to have opportunities on stage", Soo passionately discussed in a recent interview with AsAmNews.
Adding to Soo's already impeccable resume, she has ventured into the world of voice work via the Audible platform. Her most recent project is performing in Audible Original: The Takedown, which is a story written by Lily Chu and performed by Soo. The Takedown is the third installment in this romantic comedy series and the third time this duo has collaborated. Previously, in 2021 Soo performed Chu's The Stand-in and The Comeback in 2022 – both Audible Originals.
For Soo, narrating this Audible Original series and voicing the different characters required a lot of focus. Audiences are listening to this story and conceptualizing the characters, requiring Soo to convey emotions and feelings through her voice, and at the end, letting it fly in the recording booth.
"It really starts by just getting a basic general idea of the type of story you/I are telling. I did a lot of research and practice of my own before recording and when I got into the recording booth, I continue to explore the characters and fly with the homework I have done prior and hope it all works out. I always ensure I use a specific voice for specific characters, be mindful of accents and just do as much due diligence as I possibly can – at the end of the day the test is how it sounds during recording sessions", Soo expressed.
The Takedown focuses on Dee Kwan, where every day is the perfect day, but suddenly she is forced to share her home with her parents and prickly estranged grandmother. Then she's tasked with cleaning up a scandal for the intimidatingly chic luxury fashion firm Celeste. If that weren't enough, she discovers her hot nemesis works there, too and her partner Teddy is nothing like the man she thought she knew.
Dee will need to decide whether she's ready to stop watching the world through rose-colored glasses and instead face the truth: about herself, about her feelings for Teddy, and about what she's willing to do to truly make a difference. The Takedown is a very layered, complex and substantial story. Soo referenced the synopsis and stated that she could only voice these characters well because she could personally relate to the themes and the story behind this Audible Original.
"When I recorded the first two stories The Stand-in and The Comeback as part of this Audible Original series, it was during the critical years of the pandemic. I was drawn to Lily Chu's style of writing and storytelling and liked her perspective and the humor. I relate to Dee's (the main protagonist) experience with her parents and her questioning of identity and who she is. As a mixed-race Asian, I have felt the doubts and that is why this story parallels with my own life and the story evolves from part one to part three".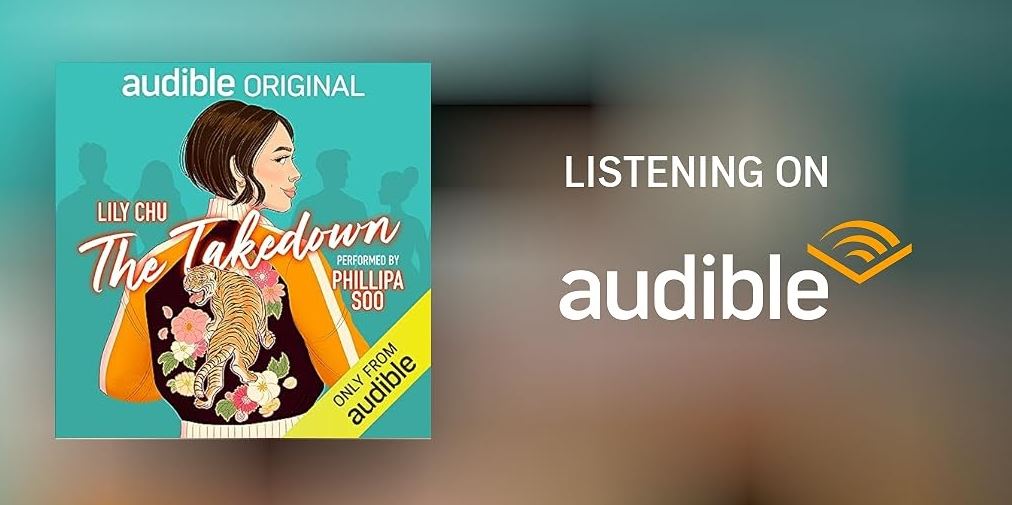 Finally, being able to successfully narrate a number of layered characters in this Audible Original is a testament to Soo's performing skills and her diverse experiences. Soo was doing stage work when the debates around Asian representation and visibility was still in their early stages and was playing roles not necessarily Asian. Her career has paved the way for more Asian stories, representation and visibility to occur on stage.
"I reflect upon when I just started getting big roles for stage productions in 2012 period, and how I hardly saw actors who looked like me. Things have changed so much now with how diverse the stories are and the actors playing the roles are. But I hope this is still the start. You know, something like theater is a little slower because it's not an infinite space and only a specific number of people can be on stage at any one time. I hope my career has opened paths for more Asian Americans of all mixes and creeds to take one and continue to open into the future".
You can find Soo's performance in Lily Chu's The Takedown as an Audible Original series on the Audible platform.
AsAmNews is published by the non-profit, Asian American Media Inc. Please make a tax-deductible donation to support diverse news coverage about AAPIs and to fund the addition of a new reporter. We are supported in part by funding provided by the State of California, administered by the California State Library in partnership with the California Department of Social Services and the California Commission on Asian and Pacific Islander American Affairs as part of the Stop the Hate program. To report a hate incident or hate crime and get support, go to CA vs Hate.