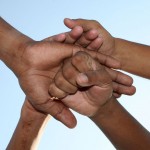 Jeremy Lin and Chandler Parsons got "a thing" going.  NewNextNow calls it a beautiful bromance.
The point guard once made headlines for crashing on Parson's couch.  Jeremy's come a long ways since then. He's gone from the precipice of being cut to enjoying a three year 25 million dollar contract.
Now Lin and Parson are joined at the hip with the Houston Rockets. The two even have a secret handshake.