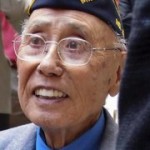 An American hero who served in the Military Intelligence Service  and was awarded a Congressional Gold Medal died of a heart attack at the age of 87, reports the Sacramento Bee
Tom Fujimoto joined the U.S. military while incarcerated at Tule Lake during World War II. He served in a Japanese American unit in the Military Intelligence Service and translated codes, interrogated POWs and later help to rebuild the occupied country.
He is the former president of the Sacramento, CA chapter of the Japanese American Citizens League and the Military Intelligence Service Association of Northern California. He was also a member of Sacramento Regional Japanese American Historical Project and the National Japanese American Historical Society and helped preserve a community of Japanese immigrants established in 1869.
"These are the roots of the Japanese people here in the United States," he told the Bee in 1994.
A memorial service is planned for 2 p.m. today in Sacramento.