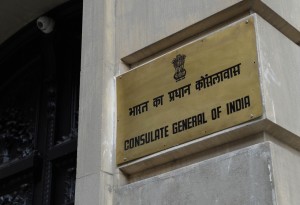 The recent arrest of Indian diplomat Devyani Khobragade in New York city and her subsequent treatment by authorities has sparked an international uproar that has spread into the Indian American community.
Authorities arrested Khobragade on charges of visa fraud and underpaying her maid last week.
According to the Borneo Post, she broke down in tears when describing how she was arrested, strip and cavity searched.
In an e-mail she sent to the Times of India, the deputy consul general in New York wrote:
I must admit that I broke down many times as the indignities of repeated handcuffing, stripping and cavity searches, swabbing, in a hold-up with common criminals and drug addicts were all being imposed upon me despite my incessant assertions of immunity.

The US India Political Action Committee has come to her defense and is asking for help from US lawmakers.
"We are making inquiries and asking our Members of Congress to investigate the arrest procedures of Ms (Devyani) Khobragade," USPAC chairman Sanjay Puri said to the Economic Times.
A protest is planned in front of the US Embassy in New Delhi.
The Independent is reporting that Khobragade is now accusing the maid of trying to blackmail her over the summer.
US attorney Preet Bhrara, known as the sheriff of Wall Street, has defended his department's actions.
"It is true that she was fully searched by a female deputy marshal — in a private setting — when she was brought into the US Marshals' custody," he said.
"But this is standard practice for every defendant, rich or poor, American or not, in order to make sure that no prisoner keeps anything on his person that could harm anyone, including himself. This is in the interests of everyone's safety," Bharara said.
He said the real victim in this case is the maid.
Khobragade is accused of writing on the visa application that she paid the maid  $4,500 a month, but actually paid her far below the minimum wage. She is out on $250,000 bail.