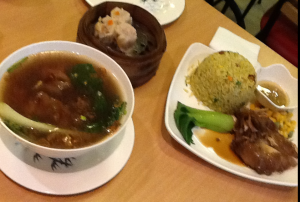 Bethany Ao's story is a familiar one for many who grew up Chinese American (photo by Renzelle Mae Abasolo).
In her blog for the Daily Northwestern, she talks about being embarrassed in grammar school by the Chinese foods she packed for lunch.
She recalls how children would laugh at her.
That incident stuck with her throughout her early years and she learned to hide her Chinese culture.
That continued in high school when she went on a student trip to China with a largely white group of students. She says they began to isolate her because she would speak fluent Chinese to the natives. She felt she didn't gain the group's acceptance until she stopped speaking Chinese.
She knows now that she was wrong.
"I am proud of my Chinese American identity and I am never again going to let someone strip away that pride and replace it with shame," she writes.  "I don't have to pretend to be more "white" than I am to be an equal. Being American does not mean I have to be white, and the American half of my identity can coexist peacefully with the Chinese half."
You can read how she made this transformation in the Daily Northwestern.
Do you have similar experiences. You are welcomed to share them here.