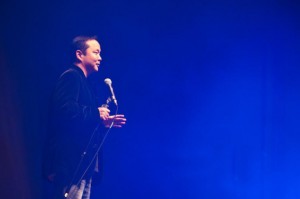 It's a 14 hour flight from Los Angeles to Australia.
One has to wonder if that played into an incident on a Quantas flight involving Asian American comedian Paul Ogata.
Ogata said he was victimized by a racially insensitive remark from a flight attendant, reports Mail Online.
The comic said the male steward acted shocked when Ogata chose the beef from the menu instead of the Asian chicken.
"You don't want the Asian chicken? What a disgrace!" Ogata quoted the attendant as saying.
Ogata said he was humiliated as other passengers near him laughed at the remark.
After the flight, he posted on his blog:
    "I glared at him and he moved on. Could I have started an altercation then and there? Yes. But I don't like to sit in restraints in the lavatory under guard by an Air Marshall for thirteen hours. So instead, like Oran Juice Jones, I chilled."

I wasn't there. But it seems like Ogata is making a big deal about nothing. He was likely tired and may have overreacted. None of us like to be singled out because of our race, but it seemed like a minor remark that could have been brushed off like dandruff.
What do you think? Should Ogata have been offended.
You can read Qantas reaction to the controversy in Mail Online.