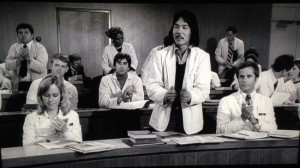 Cory Shiozaki owes his career to comedian and Hollywood producer Mel Brooks and Young Frankenstein.
The filmmaker was attending Cal State University in Long Beach when the opportunity opened up for him to take a few bit parts, reports Rafu Shimpo.
"While on set at USC's business school, Mel Brooks approached me to be prominently photographed in the scene. His extremely humorous nature made it a pleasure to work with while filming this movie."
The scene Shiozaki is referring to is one of the classics.
Shiozaki is sitting in the front row as Dr. Frederick Frankenstein (Gene Wilder) speaks to a group of medical students. Shiozaki's long hair and mustache in a sea of white faces makes him prominent, even though he has no speaking lines.
"I remember getting a lot of recognition at my high school reunion for this scene," he said.
Five years later Shiozaki went from doing bit parts to being behind the camera as a cinematographer for such films as Dances with Wolves,  Back to the Future,  Escape from New York, and The Terminator. His credits also include such TV shows as The A-Team, Knight Rider, Murder, She Wrote, and Baywatch.
But Shiozaki's desire to be a filmmaker has been molded by his passion for Japanese American history. You can read about how he has gone on to fulfill that passion as well as the 4oth anniversary of Young Frankensein in Rafu Shimpo.