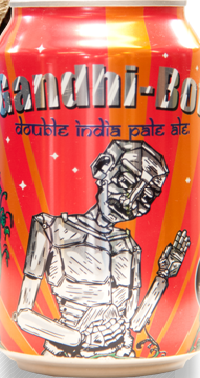 The New England Brewing Company has issued an apology for marketing its India Pale Ale with an image of Mahatma Gandhi on its beer can, reports the BBC.
The apology comes after it was sued in India and the chairperson of the Indo-American Leadership Confederation in Nevada blasted the ploy.
"Peace icon Mahatma Gandhi abhorred drinking," said Rajan Zed.  "Selling beer named after him was highly damaging to his legacy and hurt the feelings of Indo-Americans and Indians."
The beer is called Gandhi-Bot which the company says is an "ideal aid for self-purification and the seeking of truth and love".
"We do apologize if the good people of India find our Gandhi-Bot label offensive. Our intent is not to offend anyone but rather pay homage and celebrate a great man who we respect greatly," said Matt Westfall of the New England Brewing Company.
Despite the apology, it appears the beer is still for sale.
You can read what Gandhi's family supposedly thinks about all this in the BBC.