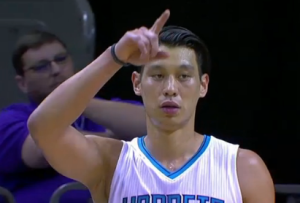 Jeremy Lin is taking advantage of the opt out clause in his contract with the Charlotte Hornets and has declared free agency, reports At the Hive.
Lin took a pay cut last year when he signed with the Hornets, knowing that the salary cap this coming season in the NBA was going way up, thanks to a lucrative television contract.
RELATED STORY:
How Big of a Paycut is Jeremy Lin Taking?
It's not a sure bet Lin will leave the Hornets. He proved a strong sixth man off the bench, but Lin wil be paid a starter's salary and the Hornets may not want to pay him that much. Even if the Hornets do offer Lin a big contract, he may want to go to a team willing to start him.
Seemingly everyday there's speculation a team will go after Jeremy. Among the teams most often mentioned is the Houston Rockets which just hired Mike D'Antoni, the same man who coached the New York Knicks during the height of Linsanity. As long as James Harden is in Houston, would Lin ever consider going back given how much Harden needs the ball?
Other rumors have Lin returning to New York. New coach Jeff Hornacek might welcome a player of Lin's caliber on a team in need of a point guard. Bottom line, lots of rumors will be floated over the next weeks, even months. Most of them you can dismiss. It's not worth expending the energy trying to figure it all out.
AsAmNews is an all-volunteer effort of dedicated staff and interns. You can show your support by liking our Facebook page at  www.facebook.com/asamnews, following us on Twitter, sharing our stories, interning or joining our staff.