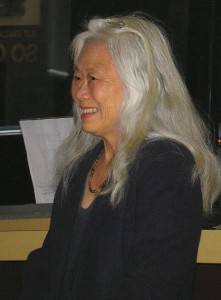 Women Warrior, one of the most acclaimed books ever by an Asian American author, celebrated its 40th anniversary this weekend.

To mark the occasion, Maxine Hong Kingston appeared this weekend for a conversation with members of the Women's National Book Association, in San Francisco.

The book received numerous honors including the National Book Award, the National Book Critics Circle Award for Nonfiction, the PEN West Award for Fiction, an American Academy of Arts and Letters Award in Literature, and a National Humanities Medal from the National Endowment for the Humanities.

The book was published in 1976, but its anniversary went by fairly unnoticed.

Kingston recently talked to the Los Angeles Review of Books. She acknowledged she is amazed by her own fame.

"One way that I have thought about the 40th [anniversary] is that through the years, my work and I have been famous not just for 15 minutes, but years and years and years, and all of a sudden 40 years," she said.

Her book is still widely read in college literature courses, Asian American Studies and in living rooms around the world. The book almost didn't come together. She told the Los Angeles Review of Books her publisher practically had to wrestle the book out of her hands because she felt it wasn't done.

"Actually Woman Warrior and China Men, I was writing them at the same time," she said.  "They fell into place as two books: I sifted them out and put the women's stories on one side and the men's stories on the other side, and I actually thought of them as writing from real life."

Her writing has not been without its critics.

"With Kingston's autobiographical Woman Warrior, we have given up even the pretense of reporting from the real world," author Frank Chin once said according to an article by Judy Huang  published on Dartmouth.edu.    "Chinese culture is so cruel and she is so helpless against its overwhelming cruelty that she lives entirely in her imagination. It is an imagination informed only by the stereotype communicated to her through the Christian Chinese American autobiography."

That Kingston's writing is fake is the same criticism Chin has also thrown at other acclaimed Asian American writers such as Amy Tan and David Henry Hwang.

"What seems to hold Asian American literature together is the popularity among whites of Maxine Hong Kingston's Woman Warrior (450,000 copies sold since 1976); David Henry Hwang's F.O.B. (Obie, best off- Broadway play) and M. Butterfly (Tony, best Broadway play); and Amy Tan's The Joy Luck Club, " Chin wrote in 1991.  "These works are held up before us as icons of our pride, symbols of our freedom from the icky-gooey evil of . . . Chinese culture."

Chin's criticism notwithstanding, Kingston's work is legendary. In 2013 she was awarded the 2013 National Medal of Arts by President Obama.

AsAmNews has Asian America in its heart.  We're an all-volunteer effort of dedicated staff and interns. You can show your support by liking our Facebook page at  www.facebook.com/asamnews, following us on Twitter, sharing our stories, interning or joining our staff.