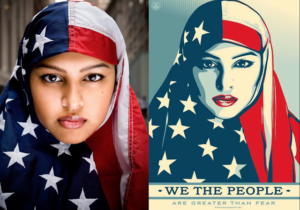 By Ed Diokno
You probably saw her face featured prominently in the Women's March on Washington last Saturday. She wore a hijab of the stars and stripes, a defiant gaze looking directly at you.
The poster featuring 32-year old Munira Ahmed was held by hundreds, perhaps thousands, marchers not only in the U.S parades but in sister marches throughout the world.
The poster was designed by Shepard Fairey, the same artist that created the iconic red, white and blue Hope portraitof Barack Obama that became popular during the 44th President's campaigns.
"It's about saying, 'I am American just as you are,'" Ahmed told the Guardian after returning to New York from Washington, where she took part in Saturday's huge protest march. "I am American and I am Muslim, and I am very proud of both." Ahmed, whose parents are from Bangladesh, was born in Jamaica, New York City and grew up in Queens.
Fairey's contributions are in the same simple ink block style as his Obama portrait. He also designed posters of a black woman and a Latina accompanied by slogans: "Women are Perfect" and "Defend Dignity". The portrait of Ahmed, however, has had the greatest impact.
Over the first weekend of the Trump era, several newspapers featured full-page reproductions of the artwork.
"It's an honor because of what the picture represents," Ahmed said. "It's not anti-anything. It's about inclusion. It's about saying, 'I am American just as you are.'"
The image on the poster is based on a photograph taken 10 years ago by Ridwan Adhami, a New York-based photographer who is also from Queens. The photo is well-known in its own right, generating controversy within the Muslim community as well in  mainstream culture.
Ed Diokno writes a blog :Views From The Edge: news and analysis from an Asian American perspective.