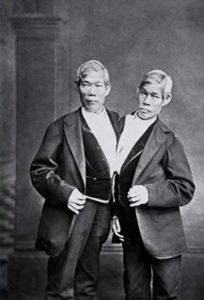 Descendants of 19th century "Siamese twins" Chang and Eng Bunker gathered in Thailand to celebrate their famous ancestors' birthdays and US-Thai relations, reports The Nation.
The twin brothers were born joined at the sternum by a piece of cartilage and through their livers on May 11, 1811 in Samut Songkhram, Thailand. King Rama II sent them on a diplomatic trip to what was then Indochina in 1827. Two years later, a Scottish merchant who lived in Bangkok took the twins on a world tour, where they became famous entertainers and businessmen.
They eventually settled in North Carolina, married two American sisters and fathered twenty one children — their descendants who celebrated in Thailand last week. Thailand's Foreign Ministry invited them to honor Chang and Eng's birthday as a symbol of Thailand's close relations with the United States.
Sarun Charoensuwan, director general of the American and South Pacific Affairs Department said to The Nation: "The Siamese twins Chang and Eng travelled before the establishment of our relations. They are the first known Thais who set foot in the US. Moreover, they realised the 'American Dream.' They were not only very successful in business, they also were the first Siamese to connect people between the two countries."
The brothers' descendants said they felt a special tie to Thailand, their ancestors' hometown and culture, according to The Nation.
"I feel a strong connection. I admire them more because of the journey that we took together to get here," remarked one of their descendants. "The twins were able to get to the United States and be very successful. I'm so proud to be of part-Thai descendant."
A recent book detailing the brothers' lives from an Asian American perspective has also been highlighted by NPR.
AsAmNews has Asian America in its heart.  We're an all-volunteer effort of dedicated staff and interns.  Check out our Twitter feed and Facebook page for more content. Please consider interning, joining our staff or submitting a story.