By Raymond Douglas Chong
Philip Ahn blazed the path as the first Korean American actor in Hollywood cinema and television. His career spanned five decades (1934 to 1978) during the Golden Age of Hollywood and the Golden Age of Television. Fans widely acclaimed Ahn as the wise Master Kan during the Kung Fu television series.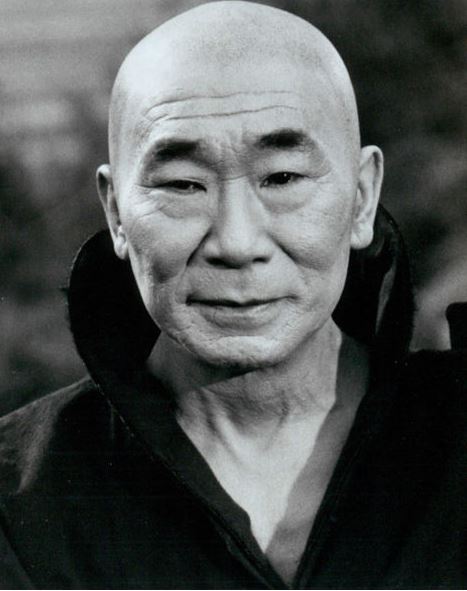 Early Life
Ahn's parents, Ahn Changho and Yi Hye-ryon, immigrated to San Francisco in October 1902. The actor and eldest son was born Pil Lip Ahn in the Highland Park neighborhood of Los Angeles on March 29, 1905.
His father was a Korean patriot. He actively opposed Japanese imperial rule over Korea (1905 to 1945). He returned to Korea for its independence fight. Japanese military imprisoned and tortured him. Ahn Changho died on March 10, 1938, in Seoul.
Ahn grew up Downtown with four siblings (Philson, Susan, Soorah, and Ralph). He attended Central Junior High School with Anna May Wong, the first Chinese American film star in Hollywood. He studied drama and speech at Polytechnic High School. Ahn graduated in 1923.
After graduating high school, Ahn worked as a rice field laborer, truck driver, and elevator operator.
Ahn enrolled at the University of Southern California in Los Angeles. In 1934, he majored in foreign commerce and speech. He performed on stage in the Merrily We Roll Along tour. After he finished his sophomore year at USC, Ahn entirely devoted his career to the film industry.
Hollywood Cinema
Ahn acted during the Golden Age of Hollywood. In his first uncredited role, he played a Chinese waiter in Desirable (1934), a drama film. Then, in 1935, He played Wu Ting in A Scream in the Night, a crime film.
In early Hollywood films, White actors and actresses acted in yellowface and slanted eyes in their portrayal of Asian men and women. Whites viewed "Orientals" as they called Asians as either evil barbarians or meek servants.  Ahn faced systemic racism and played stereotypes.
However, in his first leading role, Ahn broke stereotypes playing FBI agent Kim Lee in Daughter of Shanghai (1937), a crime film, with Anna May Wong, as Lan Ying Lin. Ahn was Wong's romantic interest in the first Asian American couple in Hollywood. They battled an immigration racket in Chinatown to smuggle aliens. Paramount  Pictures promoted Ahn as the "Oriental" Clark Gable.  
In 2006, the Library of Congress (LOC) listed Daughter of Shanghai in their National Film Registry. LOC's Brian Taves wrote: "B-films during the studio era often resonate decades later because they explore issues and themes not found in higher-budget pictures. Robert Florey, widely acclaimed as the best director working in major studio B-films during this period, crafted an intriguing, taut thriller. Anna May Wong overcame Hollywood's practice at the time of casting White actors to play Asian roles and became its first, and leading, Asian-American movie star in the 1920s through the late 1930s. Daughter of Shanghai was more truly Wong's personal vehicle than any of her other films. In the story, she uncovers the smuggling of illegal aliens through San Francisco's Chinatown, cooperating with costar Philip Ahn as the first Asian G-man of the American cinema."
His next and last leading role was in King of Chinatown (1939), another groundbreaking film countering stereotypes. He played Robert 'Bob' Li, a lawyer, as the romantic interest for Anna May Wong. Wong's Dr. Mary Ling fought gangsters to end their rackets in Chinatown.
During World War II, the United States illegally incarcerated Japanese Americans. Ahn portrayed Imperial Japanese military officers and agents as villains in war propaganda and Hollywood films. Ahn remarked: "True, I hated the Japanese, but I told myself that if I was going to play the enemy, I was going to play him as viciously as I could. In Back to Bataan (1945), I slapped little children and went so far as to hang a teacher from an American flagpole. I took pride in being the most evil man alive."
During World War II, Ahn briefly served in the US Army. His sister Susan served in the US Navy in gunnery as a lieutenant. She later worked for the National Security Agency. Ralph also served in the US Navy. In addition, his brothers Philson and Ralph acted in Hollywood.
Ahn was the first actor to portray a Korean character in Hollywood. In Pearl Buck's China Sky (1945), a World War II film, he played Wong with Randolph Scott. He played a South Korean Guerrilla Leader in Battle Zone (1952), a Korean War film, with John Hodiak, and Lu Ahn – Old Man, in Battle Hymn (1957), a Korean War film, with Rock Hudson.
Ahn's final performance in Hollywood cinema was in Portrait of A Hitman as Wong.
Hollywood Television
During the Golden Age of Television, Ahn first acted in Schlitz Playhouse (1952), then Fireside Theatre (1953). He primarily played Chinese and Japanese characters in television series and films.
Ahn appeared on popular television series as various characters: Bonanza, Hawaii Five-O, and M*A*S*H.
As Master Kan, the wise priest of Shaolin Monastery, Ahn achieved his greatest fame in Kung Fu, action-adventure Western drama television series (1972-1975), with David Carradine as Caine. The young Caine trained at this Shaolin Monastery under Master Kan.
Master Kan: Quickly as you can, snatch the pebble from my hand.

[Young Caine tries to do so and fails

Master Kan: When you can take the pebble from my hand, it will be time for you to leave.

– Kung Fu television series
His last role in Hollywood television was as Quon in Policewoman (1978)
Moongate Restaurant
On June 17, 1954, Ahn and sister Soorah opened their Chinese restaurant – PHIL AHN'S MOONGATE, in Los Angeles' Panorama City neighborhood in the San Fernando Valley. Their siblings also helped at Moongate.
Ahn capitalized on his celebrity status to lure crowds. Their patrons feasted on Cantonese delicacies, like Chop Suey, and Continental dishes, and drank exotic Polynesian drinks in the Oriental décor dining room, bar, and cocktail lounge. Many Hollywood stars patronized Moongate.
Ahn served as "honorary mayor" of Panorama City, California, for two decades.
Aftermath
On February 28, 1978, Ahn died in Los Angeles from pneumonia. He is interred at Forest Lawn Memorial Park (Hollywood Hills).
For his contributions to Motion Pictures, Ahn posthumously received a star on the Hollywood Walk of Fame as the first Korean American film actor. Mayor Tom Bradley proclaimed Philip Ahn Day and Korean Day for the City of Los Angeles on November 14, 1984.
Philip (Flip) Ahn Cuddy, Ahn's nephew and Susan's son, wrote PHILIP AHN – A SHINING STAR – A GREAT ACTOR AND PIONEER. Flip covered his uncle: his early years and parents; his educational background and beginning years in the film industry; the details of his movie career, restaurant, and community involvement; his commitment to the U.S. troops; his last roles and his concern for APA actors; and his legacy of his achievements.
In 2006, Dr. Hye Seung-Chung wrote Hollywood Asian: Philip Ahn and the Politics of Cross-ethnic Performance. Her work investigated Ahn's career. In addition, she studied Korean identities in Hollywood cinema and television.
Close
Ahn was the pioneer Korean American actor from 1934 to 1978. He epitomized Chinese and Japanese characters, with dignity, in Hollywood cinema and television. Most importantly, Ahn and Anna May Wong were the first starred Asian American couple in a Hollywood sound film in 1937.
Still, Ahn poignantly rebuked Hollywood for its systemic racism against Asians.
WE ARE NOT ALL ALIKE . . . Sinister Villains China Dolls Waiters Laundrymen! The motion picture and television industry must catch up with the times in the portrayal of Asian/Pacific Americans on the screen. Since our people participate in all aspects of the mainstream of American life, we should also be considered and cast in such roles as lawyers, doctors, and next-door neighbors.

– Philip Ahn
AsAmNews is published by the non-profit, Asian American Media Inc. We are supported in part by funding provided by the State of California, administered by the California State Library in partnership with the California Department of Social Services and the California Commission on Asian and Pacific Islander American Affairs as part of the Stop the Hate program. To report a hate incident or hate crime and get support, go to CA vs Hate.