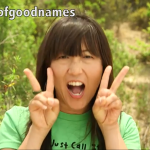 From the people who brought you the viral video What Kind of Asian Are You, comes a new video. The sequel is a video made up of racist responses to the original, according to the Daily Kos.
Stella Choe and Scott Beehner once again reprise their roles in a follow up produced again by David Neptune and Kent Tanaka.
This time Choe and Beehner act out responses to the original video–crude responses like "Ching Chong" or angry ones like "That's just stupid and downright prejudice to assume white people think that way" and "O well F**ing dumba$$."
You can watch the follow up video on the Daily Kos.