After President Obama announced an Executive Order expanding the DACA (Deferred Action for Childhood Arrivals) program and creating DAPA (Deferred Action for Parents of Americans and Lawful Permanent Residents), Asian American politicians and organizations have been encouraging eligible applicants to take advantage of the pathway to legalization and citizenship. On Monday, the new programs were temporarily blocked by Texas federal judge, Andrew Hanen after 26 states filed suit.
Asian American Congressional representatives, Judy Chu of Los Angeles, and Mike Honda of San Jose are vocal supporters of the new programs and adamant about increasing awareness in Asian immigrant communities. "I believe that this is something that will be struck down through appeals… We know we're in the right legally and we know we're in the right morally," says Rep. Chu on Wednesday in a media call organized through The National Council of Asian Pacific Americans (NCAPA). The lawsuit has not been the first obstacle DACA and DAPA have faced since President Obama's announcement last November.
Rep. Honda expressed frustration over Congress' inability to create comprehensive immigration reform. He believes that fear-mongering by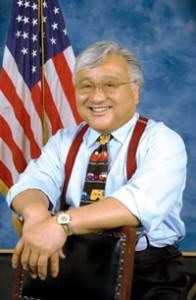 politicians are to blame for low turnout among currently eligible DACA residents. "No one should be afraid of these threats by anti-immigrant politicians," he declared during the NCAPA call. He encouraged Asian Americans eligible to vote to turn out in force during elections to unseat legislators that support policies to separate immigrant families.
For the most part, stories of undocumented immigrants go untold. NCAPA scheduled two DACA recipients to tell their stories of struggle and activism. Georgia resident, Raymond Partolan said in his statement, "Being undocumented was the single most jarring characteristic of my childhood and teenage years. It placed me in a state of limbo, in which I felt estranged and distant from my citizen peers because of my immigration status." Since being approved for the DACA program, Partolan has been a fervent advocate for other undocumented immigrants.
Before the expansion of DACA was announced, many young adults living in limbo were ineligible for the program. An undocumented Filipina American in San Diego, A., immigrated as an infant and spent her entire childhood believing she was a citizen. Despite increased access to legalized residency, the specifics of her case are unique. One criticism of DACA she has is the lack of clarity on what exactly is grounds for rejection from the program. Though both of her parents have since obtained citizenship, she has not. Unable to travel abroad to see family and accept promising job offers, A. discussed having to impose limitations on herself to avoid attracting unwanted attention from authorities.
Despite calls for community-wide support from speakers at the NCAPA conference call, A. believes that in many instances, the stigma is too much to overcome. "So even though you may TRY to educate the community that they're not alone, and that they won't be penalized, sometimes when you've been living in fear of something for so long, or have trouble swallowing your pride, it's hard to break that mentality," she said. A. remains hopeful that there will be a comprehensive solution in the future. With a precarious immigration status, optimism and being active in her community are ways to avoid depression. Her belief is that people sharing their undocumented status will slowly break the judgmental attitudes that pervade communities across the country.
According to Rep. Chu, nearly half a million Asian immigrants are eligible for the expanded DACA program, almost half of all undocumented Asian residents in the United States. Statistics for DACA applicants show that of the nearly 650,000 applications accepted, the number of Asian applicants are miniscule compared to other countries. Both members of Congress participating in the conference call and organizations working to assist eligible applicants have expressed optimism for increasing applicant numbers among Asian immigrant populations. All stated awareness of the programs is essential to ensuring eligible residents apply. A. believes that making workshops available in communities large and small, conducted in multiple languages, and with flexible times are the best way to ensure people are utilizing the programs. She stated that making fellow undocumented residents who have gone through the application process available to speak and answer questions, could prove to be extremely beneficial in allaying fears of people with undocumented status and provide a comfortable environment.
The programs aren't perfect. The application process is expensive. Fees alone can put the whole program out of reach for low income residents. Since undocumented residents are ineligible to work in the U.S., the ability to earn enough to pay fees for DACA/DAPA seems unrealistic. Many have to hire attorneys to navigate the complicated web of immigration law if an individual's case doesn't fit into the cookie cutter mold these programs were designed around. A. contends that all immigrants who came to the United States as children deserve to argue their case. They've made the U.S. their home and built their lives here.
Though these pathways to citizenship are not perfect, progress is still being made to legalize the status of millions of immigrants. The speakers at yesterday's forum were optimistic that the injunction will be lifted and DACA/DAPA implementation is imminent. The current political climate is such that comprehensive immigration reform in Congress is unlikely in the next two years.
For more information on Deferred Action for Childhood Arrivals and Deferred Action for Parents of Americans and Lawful Permanent Residents, you can find it here.