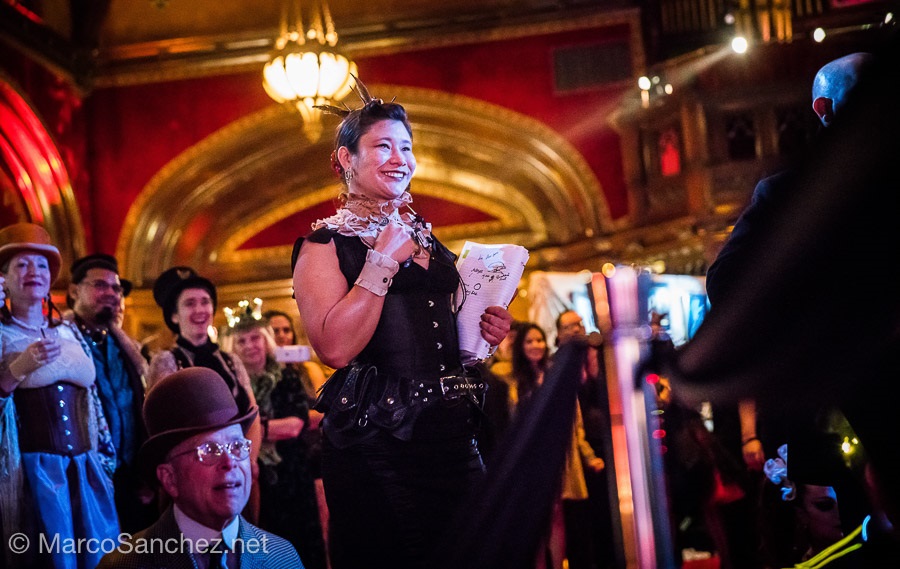 By Jana Monji, AsAmNews Staff Writer

If you attend this weekend Edwardian Ball in San Francisco or the February downscaled version in Los Angeles, you probably won't see Jenjen Wong, but her presence will be felt. She'll be behind the scenes, making sure acts get out on time and have their props.
Wong is the assistant director, working with Michael Gaines and Shannon Gaines of the Vau de Vire Society. She's been working on the Edwardian Ball for the last four and a half years. If you're unfamiliar with the Edwardian Ball, the Edward is not an English king, but the eccentric illustrator and writer Edward Gorey. This year marks the 19th edition in San Francisco, but only the 10th in Los Angeles (Fonda Theatre, February 9).
In San Francisco, the two-day affair includes a World Faire before the main performance day. For Los Angeles, it's a one-day up and out. Wong compared it to a book, The Night Circus. It's a magical circus only open from sunset to sunrise.
Wong has experience with circuses. She helped open up a circus school in Oakland, using her business degree from UC Davis. During her college student days, Wong found time to dance and row. That might not seem like a good fit, but Wong, who grew up in the Cypress area, did modern contemporary dance and played co-ed waterpolo and was one of the few women on the wrestling team. "It was right after Title XI." That opened up high school sports for women and "they had to get me to wrestle on the men's team," she told AsAmNews. As she recalls it, "I was the only female in the district that wrestled." Those sports built up a lot of upper body strength that Wong later used in college for dancing that included floor and partner work and lifts, only Wong wasn't only being lifted, she was lifting.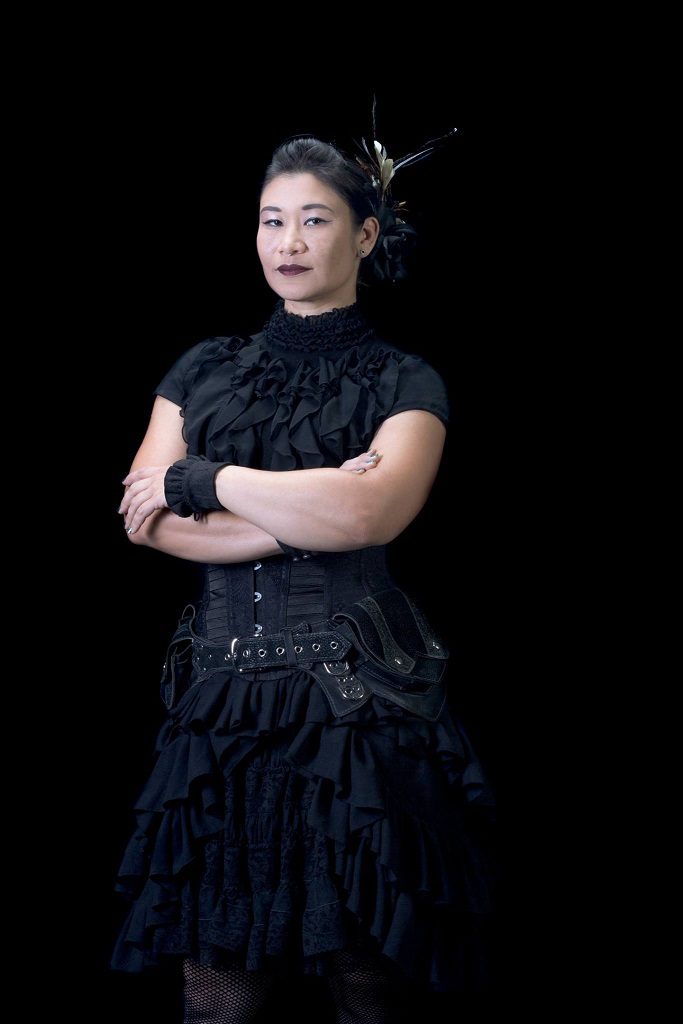 As a dancer in the Bay Area, she's worked with the Dandelion Dance Theatre (2002-2008) and as a principal dancer in A Mused Collective where she is currently listed as the rehearsal director.
The strength also helped her backstage where she has to pull and move rigging gear with predominately men. "A trend is rising up," she noted for more women to enter production, but she feels that "those of us who have experience in a sports environment can move more comfortably in that space." Wong was always very "gregarious and very social" even as a child. She is also touched by whimsy which is "why a circus is a natural sport for me."
As a part of the production team, her "outspoken personality helps me advocate for the needs of a performer" and experience in performing as a dancer allows her to better serve them because she understands their needs and their nerves.
This week, she and the crew behind the Edwardian Ball will be on their "home turf," but when they get to Los Angeles there will be a quick build. Wong will be part of the team that will be "building out the space for the green rooms." Then for the night of the event, she'll help the stage managers insure the acts get out on time and help with the changing out of props. That doesn't mean you won't see her. If you do she'll be dressed to impress–practical but theatrical.
After that, it will be back to San Francisco for Wong who is leaving her full-time work at the circus school to concentrate on freelance work in production as well as modeling and performing.
The Edwardian Ball opened at the Regency Ballroom (1300 Van Ness Ave.) in San Francisco last night (World's Faire) and tonight for the Ball itself. In Southern Californians, the Edwardian Ball will be one night only on February 9 at the Fonda Theatre (6126 Hollywood Blvd.) in Los Angeles.
AsAmNews has Asian America in its heart. We're an all-volunteer effort of dedicated staff and interns. Check out our Twitter feed and Facebook page for more content. Please consider interning, joining our staff or submitting a story.