By Shirley L Ng
AsAmNews Staff Writer
I recently had the opportunity to interview Telly Leung, the rising star who is starring as Aladdin on Broadway in New York. Here's what he shares with AsAmNews.
I read that you got inspired to go into acting in high school, Stuyvesant to be exact. What was it that made you say, "Yes, I want to do this?"
Stuyvesant, a math and science school, is a very academically accelerated and competitive environment. As a break from the calculus and physics, I wanted to get involved in afterschool theater. I quickly found what I call "my tribe". These were like–minded, artistic, compassionate, intelligent folks that created an accepting community, all coming together to create something that had never existed before by putting on a show. I felt a sense of belonging and a sense that this was the kind of people I wanted to surround myself with for the rest of my life. I still feel this way. Now that I'm in the bigger Broadway community, I feel a sense that this is my "tribe."
Did you have an icon (Asian or not) that inspired you? that you admired? Who is it and why?
There are people in the world of Broadway that have dedicated their life to Broadway. The first name that comes to mind is Chita Rivera – someone that is still performing (and stopping the show) in her eighties! As an Asian artist, it was a big deal for me to see Lea Salonga win her Tony on national television for her performance in Miss Saigon. I was 12 years old. The visibility of that moment – of seeing a beautifully talented and poised Asian artist receive the award for best actress – subconsciously said to little Telly "maybe you can do that one day, too!"
What were some struggles during your acting career as an Asian American actor? Did you ever doubt yourself of your career choice?
As an Asian actor, it is impossible to ignore the fact that statistically, there are less of us in this business and also less work out there for us. That being said: there are great pieces of theater that for our community. I've performed in several of these pieces – Flower Drum Song, Pacific Overtures, Allegiance, M. Butterfly, The World of Extreme Happiness. I've also embraced those opportunities that have cast me "non–traditionally" and also cast me for my talents and not my race. Shows like Wicked, Godspell, Rent, Aladdin and even opportunities like Glee are cast regardless of race – and I am very thankful for the opportunity to display my talents in those projects as an "actor" – and not specifically and solely as an "Asian" actor.
Because there's less opportunity for actors of color – especially Asian actors – in this business, I think it's so important for us to create our own work!
Between Broadway shows and TV projects, I perform in a lot of cabaret clubs and concert venues around the country. I've put together a one–man show with my band and I've also self–produced two solo albums. It gives me great joy to stand on a concert stage and share my personal story through songs and anecdotes, and to build that personal, intimate relationship with an audience. It also keeps me artistically inspired and "in shape" until the next big project comes along.
Self–doubt is something every actor goes through. Anyone who says otherwise is telling you lies! But, I think it's important for every actor to overcome those doubts and channel some of that anxiety in the right way. It's also important for every actor to deal with rejection. To some, I may appear to have an impressive resume, with 7 Broadway shows. But, for every show that's on my resume, there are about 100 jobs I auditioned for and did not get. That's hundreds of people telling you, "No. We don't want you." That is hard on the soul and the ego, and one has to learn quickly how to get back up again and keep going.
What were your best moments as an actor before landing the role of Aladdin?
I have so many wonderful memories, but nothing tops getting that phone call in 2002, telling me I was going to be making my Broadway debut in Flower Drum Song. I was actually home in Brooklyn with my parents – so I got to share that happy moment with two of the most important people in my life. We were having a casual dinner at home, but my mom opened a bottle of expensive champagne that she had saved for a special occasion. Cantonese food. Rice. Champagne. A perfect moment.
What was going on your mind when you were asked to audition for Aladdin? Was this a role you ever thought of playing?
I was thrilled to be asked to audition. I was a fan of the show, and I loved the original Broadway company.
To be honest, I had no idea or expectation that I'd be playing this role one day. Part of the life of being an actor is that one has NO idea what is next! If you told me a year ago I'd be playing Aladdin on Broadway, I would have said: "No way! You're crazy!" I treated it as I would any audition: I prepared the material, I did my best in the room, and then I forget about it. As an actor who is auditioning all the time, I have to do that for my own sanity! IF I get a callback (or if I get the job), it's a wonderful surprise to me. When I did get the job, I was initially thrilled for the opportunity! I called my parents and my husband and I shared the great news. Then, I got nervous because it's a monster–sized role and the character is so beloved by generations of Disney fans. When the excitement finally settled down, it was time to get to work.
What were are you feeling after your first show on Broadway as Aladdin?
The first show for an actor replacing in a long running show is always an out-of– body experience. You just try to hit all your marks, not mess up the words, and not hurt anyone (including yourself!) Aladdin is a well–oiled machine and many of the company members have been with the show for years. It was my first show, but it certainly wasn't theirs'. I am very thankful for the very generous and patient company at Aladdin that let me find my way through the show during those first few performances.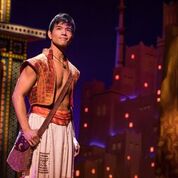 What's it like on that "flying carpet"?
It's pure magic.
Being on Broadway and pretty close to home where it all started and your family from Brooklyn, how does that feel?
As an actor, I'm often traveling for work. I get a phone call, and I'm on a plane to some city for a concert or a TV shoot. I'm always thankful to be working on Broadway because New York is my home. My parents are close. I'm home with my husband, in my own bed. As an actor, we live the lives of gypsies sometimes. We are always traveling to the next job. I'm always very thankful for a job at home.
What does it mean to you be an Asian American male, playing a lead role in on Broadway?
It's thrilling and humbling. It's a wonderful role, created by another fantastic Asian American performer, Adam Jacobs. I'm thrilled that I get to carry the torch created by Adam and make this role my own eight times a week on Broadway. I'm also hoping that my visibility in this role is something that will be meaningful to the next generation of Asian Broadway performers. Maybe there's a 12–year–old kid in that audience that's watching me on stage, saying "I'm Chinese. Telly's Chinese. Maybe I can be on Broadway, too!"
What is your advice for our aspiring Asian American actors?
It's a numbers game. Just keep at it, and keep auditioning and being visible. If you get an opportunity to audition for a role, take that opportunity to prove your case. If you find that the numbers game is against you, then create your own work and get it out there and visible.
Okay, for fun.. what's your favorite comfort food?
White rice and some fatty roast pork. Yum.
AsAmNews has Asian America in its heart.  We're an all-volunteer effort of dedicated staff and interns. You can show your support by liking our Facebook page at  www.facebook.com/asamnews, following us on Twitter, sharing our stories, interning or joining our staff.